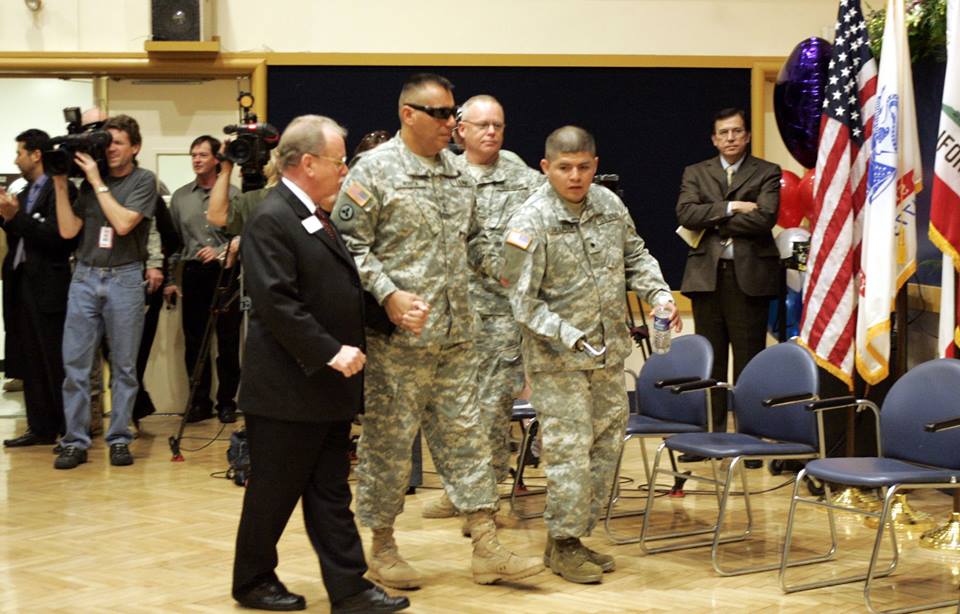 In 2007,I had the opportunity to attend a Purple Heart ceremony for four veterans. The ceremony was held at the Long Beach VA in California, and it was the first time I had any personal contact with combat wounded veterans. We at WHOA had recently begun providing financial assistance to wounded vets, but they were out of state. Prior to that, our focus had been on assisting surviving spouses, but again, they were out of state or at least out of the area. At the Purple Heart ceremony, the veterans were all local.
The vets made quite an impression on me, as it was the first time I had seen the price of service. One vet had lost his eyes from mortar shrapnel; another had lost an arm to an IED; and two were paraplegic, after being shot by sniper.
What I remember most was how hurt they were. They had only recently been wounded, so they were in the first stages of reintegrating to the civilian world. One of the vets was a Native American, a Navajo, named Alroy Billiman. Alroy had lost his arm due to an explosion. At that time, I knew very little about Post Traumatic Stress Disorder (PTSD) or Traumatic Brain Injury (TBI). I saw "only" an amputee, but I figured he must have had brain injuries as well; it must be nearly impossible to experience an explosion strong enough to blow off your arm without also damaging your brain.
After the ceremony, Alroy returned to Balboa Medical Center in San Diego, where he was being treated.We didn't make contact again for more than a year, and by then, we at WHOA were well on our way to working with combat wounded vets. The other three vets I met at the ceremony had already been incorporated into our group, and then Alroy showed up.
He was a different young man than I was used to seeing. Being from LA, I had a wide range of friends from all races and ethnicities, but I never had much experience with Native Americans. As I got to know Alroy, I realized he was a fun-loving, gregarious fellow. He was affable, and within a year he had made a circle of friends at Balboa Medical Center. Many of these severely wounded vets were in-house patients for months. BalboaVA was renowned for treating amputees, and Long Beach VA was known for treating spinal cord injuries.
In general, the VA encourages such wounded vets to get moving, to get active, and to deal with their new realities as quickly as possible. The VA, along with other nonprofits, began to involve Alroy and the other three in physical activities like surfing, skiing, and SCUBA diving. At the time, the VA provided prosthetics to vets to help them overcome their disabilities. The VA provided prosthetic legs, feet, arms,and sometimes, some of each to certain vets depending on what they needed. Alroy received several prosthetic arms, including one that could to hold a golf club, Alroy's weapon of choice. Golf was his thing, and since it was one of my obsessions as well, we hit it off right away.
Once Alroy was released from Balboa VA, he moved back to his home in Arizona. He was married, had a young daughter, and was seeming to adjust well. As far as I could tell, life was good for Alroy. He was 100 percent service-connected disabled and was receiving full compensation, and he seemed okay. He would call me every now and then, mostly when things weren't going well, and we at WHOA would help out when we could. (We like to help out when problems are minor, "putting out small fires before they become big"). Soon, though, I realized Alroy had a much bigger problem than I thought. Alcohol was creating family issues and ultimately led to the dissolution of his marriage. He also lost his home and went pretty deep into depression.
Alroy and I lost track of each other for several months until he called one day and told me he had quit drinking and had been sober for six months. That's when my education of Native Americans really began. I had had some issues with drinking and had quit nearly twenty years prior, so I well-understood what he had been dealing with.
I kept up with his life and challenges, and from time to time I would help him walk through difficult situations. But one thing was happening as he continued to embrace sobriety: he got involved in a drug and alcohol program on the reservation and began helping others recover from alcoholism and drug addiction. Alroy was a natural leader who overcame life-changing injuries, as well as personal problems, to become an inspiration to many—myself included. He came to understand that life was important, and that he could make a difference in the lives of others.
He began referring other Navajo vets to WHOA, and our relationship with the Navajo Reservation began. We started helping a few Navajos, and our fledgling group got started. It was a modest start, but a start nonetheless. With Alroy's help, we were able to extend our Christmas program to the Reservation. The last three years, we sent toys to the kids, and Alroy came to visit LA now and again. Last September, he and West James, another of our Navajo vets, joined us at our annual golf tournament.
Alroy's a rancher. I, on the other hand, am a city boy and a tourist, in need of some education about the Navajo way of life. During my visit to the Reservation, Alroy invited me to a Sweat Ceremony. I have to admit, I was a bit nervous. The Navajos are a very spiritual people, and "The Sweat Lodge" is a cleansing ceremony performed inside completely dark igloo-shaped tents. The men go in nearly naked, and in their native language, they chant prayers and stories. They pour water over hot rocks to create the steam, and then they sweat-And sweat we did.
I made it through about two-thirds of the ceremony before I had to come out for air. The whole experience gave me a glimpse of their life. It was a unique and unexpected experience, and one that gave me a great sense of their culture. It is something Navajos have been doing for centuries, and it was one my best memories from the visit. They made me feel welcome. There was a little humor also, with eight men in their underwear, seven Navajos chanting prayers in their native language, and a Cuban chanting in English.
Navajo life on the Reservation is tough in many ways, but it's also their choice to live that way. To an outsider, it's a bit of a mystery. Conditions are so harsh on the Reservation, and there are many problems. But there is also something very special there. The Navajos have their own nation, and their own unique culture.
The trip to the Reservation was a relaxing eleven-hour drive from LA, mostly through the desert. Initially, it felt like I had entered a foreign country, but the reason I was there was mainly to meet up with Alroy and to learn about vets on the Reservation. In terms of veteran issues, the more I learned, the more I realized what an underserved community of veterans the Navajo Vets were. I was under the impressionthat the Department of Defense/Veterans Administration treated all vets the same and that VA facilities were plentiful and proximities for treatment would be close and accessible. Perhaps I was naïve, but my only example was southern California, where we have an abundance of facilities all close by.
What I do know about combat wounded vets, especially those with high service-connected disability ratings, is that they make frequent trips to local VA hospitals. Whether it's for physical therapy (PT), counseling, or group sessions, they travel to VA hospitals often. I remember asking Alroy where they went when they had issues of any kind, and he mentioned a few clinics on the Reservation. I asked where are the nearest VA hospitals (which is where the best care is), and he said it was about three hours away in Albuquerque, or five hours away in Phoenix. I thought that was impossible. I knew vets who visited the VA several times a week, so how could these vets do that when the nearest hospital was three hours away? I also asked where they went to file claims, and sadly, the answer was the same.
To me, it is inconceivable that a combat wounded vet would have to drive three hours to get the best VA treatments available. But apparently, that's the case on the Navajo Nation. My primary concern was the veteran community, but when I considered the entire way of life on the Reservation, I saw a tremendous difference between the lives of the Navajos versus the lives of people who live in the rest of the country.
First, we must recognizethat Native Americans have the highest per capita of any ethnic minority in our nation's military; the contribution of the Navajo Code talkers in WW II is legendary. It's not an understatement to say that in many ways, our Navajos are living in third-world conditions, in the heart of the richest country on earth.Throughout history, they've been among the first to fight for freedom, a freedom that has often been denied them by the same country they have been so willing to fight and die for. I'm not an advocate for Native American rights, or any other group in particular except for US veterans, but when you look at the inequity between the Native American community and the rest of the country, it's not hard to ask, "How is this possible?"
Navajo Code Talkers, recognized heroes of WWII, returned to live on Navajo Reservations and couldn't vote in New Mexico until 1948. And Native Americans in general weren't able to vote in every state until 1962. They only received American citizenship in 1924.
The statistics today—at least for Native American veterans—are no better.
Distance between VA facilities and Window Rock, the capital of Navajo Nation:
• Albuquerque VA – 3 hours
• Phoenix VA – 5 hours
• Small clinics (all of which are in Arizona) that are open Monday – Friday, 9am – 5pm, and closed on weekends:
o Anthem – 4.5 hours
o Chinle – 1 hour
o Cottonwood – 4 hours
o Holbrook – 2.25 hours
o Kayenta – 2.25 hours
o Kingman – 5.5 hours
o Lake Havasu City – 5.5 hours
o Page – 3.5 hours
o Polacca – 1.5 hours (once a week)
o Tuba City – 2.5 hours
Many of the vets we assist at WHOA have been diagnosed with PTSD and TBIs, in addition to other physical service-connected injuries. In many cases, they have to visit a local VA hospital once or more per week. Sometimes they need to attend group sessions, which makes for even less flexibility.
It would be unimaginable if the only options they had are those available to the Navajo vets. Most of the vets we know have access to a VA hospital about thirty minutes from home. Here in Southern California, we have West LA and Long Beach hospitals—two of the best in the nations. We have Loma Linda, serving vets in the Inland Empire, and Balboa Medical Center, serving the Greater San Diego area.
And for Navajo vets on the Reservation, the living conditions aren't any better:
Per Capita Income: $7,269
Median Household Income: $20,005
Median Family Income: $22,392
Percentage of Individuals Below the Poverty Level: 42.9%
Unemployment:>45%
National Average
Per Capita Income: $35,000
Median Household Income: $59,000
Median Family Income: $72,000
Percentage of Individuals Below the Poverty Level: 14%
Unemployment: <5%
And more sad statistics:
• 70% of the roads on the Reservation aren't paved
• More than 30% of the residents don't have electricity or running water
• More than 70% of the residents use propane or wood to heat their homes and to cook with
• 60% of the residents don't have telephone service
• More than 40% of the residents live below the poverty line
With so many Navajos living far from paved roads while also lacking electricity, gas, running water, and phone service, it's a wonder any want to live on the Reservation. Yet they wouldn't change anything. Maybe it has to do with their love of their land. It's a strong lesson about Love of Country, and it's beautiful in many ways. There's so much to learn about these quiet ancient people and their ways. One thing I've learned is that the Navajos are steeped in traditions and beliefs, and above all, they value their land and their warriors.
I've only been to the Reservation once, so I can hardly say I know the people or the culture, but I can say it's a beautiful country. It's their ancestral land, and it's been their home for thousands of years. Unlike other Native Americans who have been relocated by the government, the Navajos have always called the land between the four sacred mountains their home.
Generations of Navajos have endured many injustices, brought upon them by both the Federal Government and State Governments. Some of the issues facing the Navajos are tangible, such as infrastructure and employment, but many are social and cultural. I know a Navajo vet who, to me, clearly suffers from PTSD, yet he does not have a service-connection rating. I'm sure if he went through the process, the VA would assign him a high percentage of PTSD, yet he won't go through the process. He has issues with alcoholism, unemployment, and finances, yet he's a highly talented and educated young man. When I asked another Navajo vet about this, he told me, "From the time we are children we are taught not to cry, not to ask for help, and to be warriors. A warrior's life is one of self-sufficiency, and we're taught to be tough and to endure difficulties."
Navajos have such a strong attachment to their land and their culture that I don't doubt their willingness to endure hardships. They are true warriors, and they honor and revere the qualities and sacrifices of the warrior.
They also play golf—and they make great friends. And I want to go back to the Reservation as soon as I get a chance.
https://www.huffingtonpost.com/…/american-indians-serve-in-…
http://navajopeople.org/…/ancient-navajo-and-native-americ…/
https://indiancountrymedianetwork.com/…/not-alone-in-the-d…/
https://indiancountrymedianetwork.com/…/a-history-of-india…/
PTSD and Native American Medicine