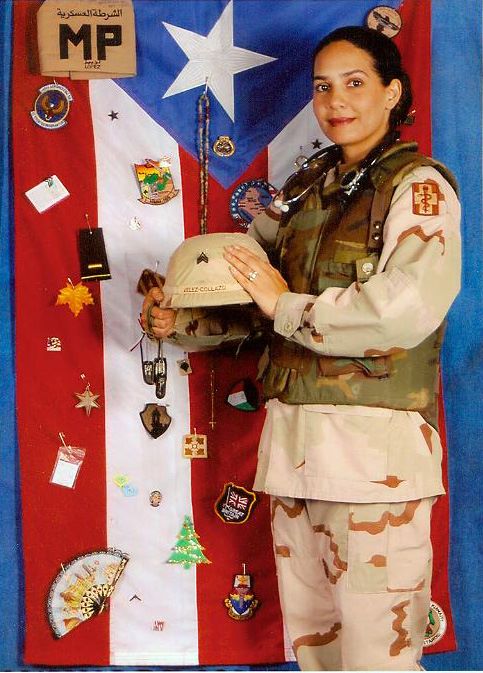 Here at Wounded Heroes of America, we are a family of Combat Wounded Veterans. Our mission is deeply personal, and our veterans are never too far away to be in our hearts. Today we are urgently asking for help for one of our combat wounded vets who is living in rural Puerto Rico, and is working tirelessly to rebuild her community after Hurricane Maria.
Doraliza is a decorated female combat veteran who served as a Sergeant in the Army Medical Corps and was a battlefield nurse in Iraq. Her deployment put her in a position to witness some of the most horrific aspects of war. After her honorable discharge from the Army, she returned to the Los Angeles area with severe depression, Post Traumatic Stress Disorder (PTSD) and a Traumatic Brain Injury (TBI). Her dream was to go back home to Puerto Rico and reunite with her family, but her PTSD and depression made it extremely difficult. Eventually she made her way back to her beautiful little town of Utuado, in the mountainous center of the island. Her life was coming around, and she was adjusting to her new reality, when Hurricane Maria devastated the island, with the rural region where she lived being among the hardest hit areas.
People are suffering here, she thought. I need to do something. I need to help.
Despite all of her own struggles, and like so many of our returning veterans, Doraliza felt that her oath to her country and community did not end the day she was honorably discharged. Incredibly, Doraliza is not seeking help for herself but rather for her friends and neighbors who have been affected by Hurricane Maria.
Doraliza has been doing everything in her power to help her town since this hurricane hit. In the aftermath, she has seen her community looted, and her neighbors overwhelmed with grief and a feeling of desperation. In this climate of fear and isolation, Doraliza has been a source of strength and comfort for many of her neighbors, taking one elderly couple in particular under her wing. The couple has been living on their family farm their entire lives, and the hurricane violently ripped off their roof. Now they are living with nothing but a tarp to protect them from the elements, and they desperately need the funds to rebuild their home. Please help us give Doraliza the resources she needs to bring immediate relief to her neighbors, and to help her community recover.
The funds she is requesting are modest, and they will provide basic essentials for those who have lost everything. They will also buy her some time to learn how best she can help.
Any donation is helpful. Please share this story with friends and family, and help get the word out for this very worthy cause. The people of Puerto Rico are hurting, and recovery is slow, but there are angels out there who are willing to give of themselves to help others; we just need to provide them with the tools. Doraliza is one of those angels, and she needs your help.