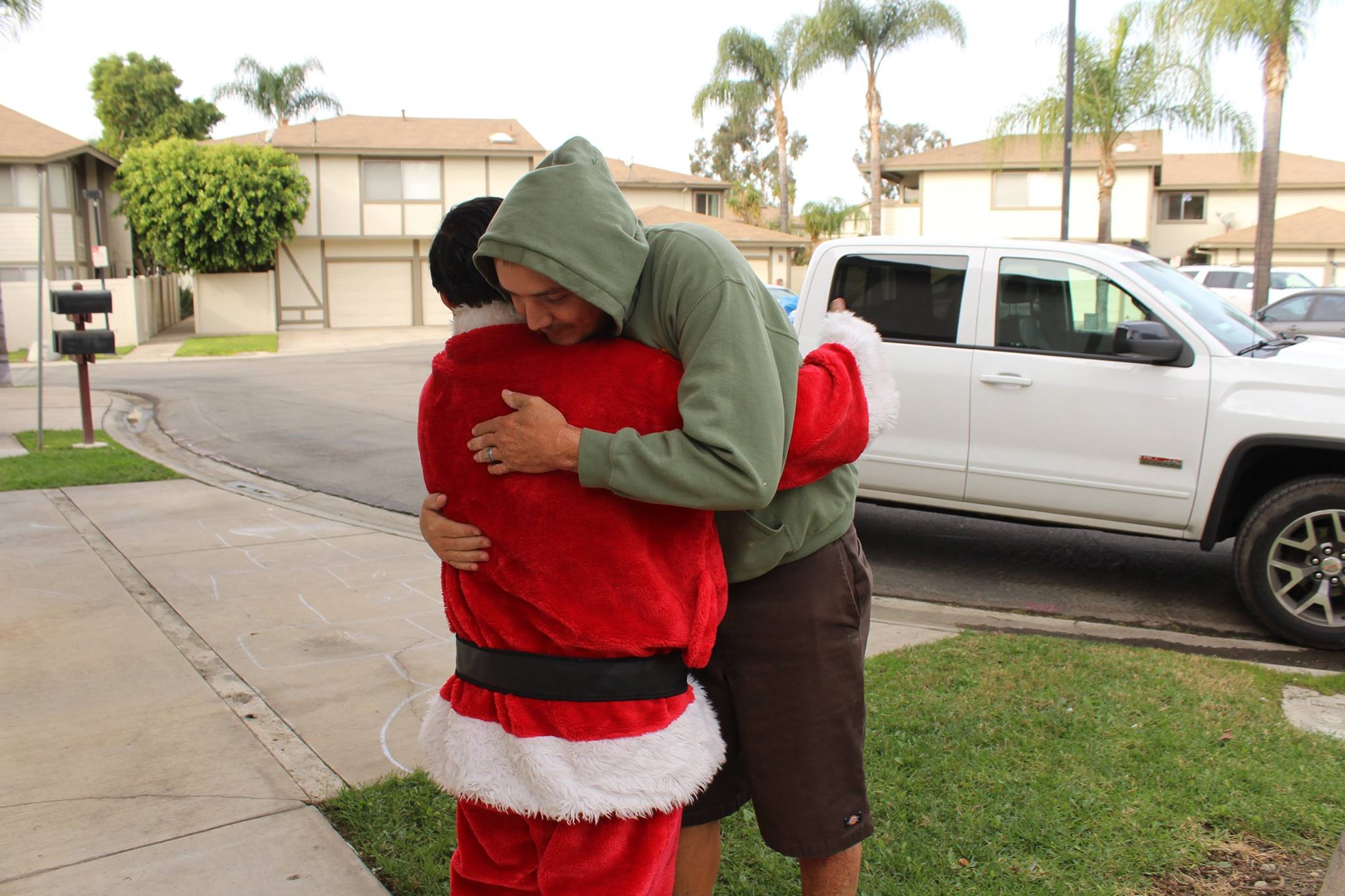 We had another successful Christmas by WHOA's Santas and helpers. Not to say that Santa had it easy. On the contrary, it took several Santas, a bunch of elves, lots of friends, and plenty of community members to make the operation happen. There are so many people to thank, and if not for their help, we couldn't have had a Christmas program. I will say this, though: there's nothing as fun and rewarding as seeing a child open the door to a "HO HO HO" and a Santa with a bag full of toys—even if that child realizes that inside the big red suit, and under that bushy white beard, it might be his or her dad.
I don't want to give the impression that Operation Santa is just for the kids. In truth, the big kids love dressing up as Santa. They love getting the hugs, the milk, the cookies, and all the smiles, and not just from the kids but from the parents as well. The parents, too, get a big kick out of having Santa come by and surprise their kids. It's really a lot of fun for everyone involved.
All of our Santa Clauses are combat wounded vets, and over the years we've had a small army of veteran Santas go and spread holiday cheer. Most of the work leading up to the deliveries is done by vets and their families. They do the purchasing, wrapping, shipping, and personal visits from Santa. It's an entire month dedicated to bringing people together and making the holidays fun.
Christmas 2017 saw us send multiple toys to more than 170 children of our Combat Wounded. We visited 32 homes in 26 Southern California cities, and we visited and shipped gifts to 56 cities in 15 states, including Puerto Rico and the Navajo reservation. The very last delivery was a quick trip from LA to Phoenix to meet up with Alroy Billiman, one of our Navajo Vets. We dropped off a truck-full of toys for children on the reservation. We also sent several boxes of toys to Doraliza Velez–Collazo, one of our vets in Puerto Rico who is doing great work by helping her community recover after the devastation of hurricane Maria.
Both these combat veterans, Alroy and Doraliza, are doing amazing things for people they may not even know. They represent the best of our country and our military, and we're extremely proud of them. We hope to be able to help them continue their work.
Something else that's not talked about much, but that we're all very aware of, is that while the holidays can be a festive time for gathering with family, friends and loved ones, the season can also be very sad for others. Sometimes depression and hopelessness can rule the day. Several years ago, one of our veterans committed suicide during the holidays. For us, this was not just a statistic; it was a young Marine who lost his battle with PTSD. A young man with a full life ahead of him who, in a moment of depression, decided he couldn't continue living. We know how important it is to get as many of our vets and family members involved in the Christmas program.
Finally, we are very grateful to all those wonderful folks who love our vets and keep our Christmas program alive. We have special friends who come through every year. The El Segundo Fire Department has given us tons of toys year after year. Vets and their families are in and out of our office every day helping to wrap and ship gifts. Many generous friends donate money so that we can keep the Christmas program going. Joe's Postal Center gives us huge discounts and great service getting toys to other states. The wonderful women from Dollies Making a Difference make terrific handmade dollies and teddies for Operation Santa every year. We have friends in the US Department of Agriculture who always show up with boxes full of toys, and many more people help Santa's sled take off.
From the bottom of our hearts, we thank each and every person who was involved in Operation Santa 2017. Enjoy the photos and the rest of the holiday season. There is a lot of love there.
Merry Christmas
Wounded Heroes of America.